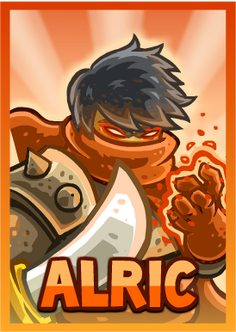 Alric the champion is a hero in kingdom rush frontiers. He is the first melee hero and is one of the three free heroes.
Description[]
Alric is one of the best warriors, he makes fighting a form of art. His dupline and trainning allows him to strike with lightning speed while also calling upon warrior spirits from the desert to aid him.
Stats[]
| HP |  Melee Damage | Armour |
| --- | --- | --- |
| 245 |    6-10 | Low |
Skills[]
SWORDSMANSHIP
Improves attack damage by 2. (Improves Flurry damage).
SPIKED ARMOR
When damaged, Alric returns 10% of that damage.
TOUGHNESS
Increases hero life by 30.
FLURRY
Special maneuvre that strikes its opponent 2 times in quick succession.
SAND WARRIORS
Summons 1 sand warriors with 60 life to aid him in battle for 8 seconds.
Quotes[]