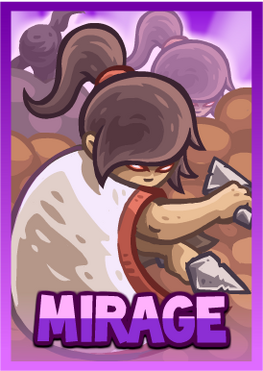 Mirage the Assain is a heroine in kingdom rush frontiers that corresponds to Assasins' Guild. She is the first ranged and one pf the three free heroes.
A lenedary Assasin of the order, Mirage has sworn her daggers and  her unorthobox but effective tactics to the protection of hammerhold and the forces of good.
| HP | Ranged Damage | Armour |
| --- | --- | --- |
| 180 |     6-9 | None |
PRECISION
Improves attack range by 10%
SHADOW DODGE
Grants a dodge chance of 20 percent and when dodging, leaves a copy of herself to fight for 1 second.
SWIFTNESS
Increases movement speed by 20 percent.
SHADOW DANCE
Summons 2 copies of herself that run and attack nearby enemies, dealing 24 damage each, and then vanish.
LETHAL STRIKE
Mirage backstabs her target for 90 damage with small chance of killing the target.
They won't see me coming.
Community content is available under
CC-BY-SA
unless otherwise noted.